When Christopher Knight proposed to Kara Cocknes, his TV mom welcomed her with open arms.
Florence Henderson, long known as one of America's most beloved TV moms thanks to her role as Carol Brady on the 1970s sitcom "The Brady Bunch," passed away in 2016. She was 82 years old.
Knight, who played her son in the series, told Fox News that the star has agreed to his fourth wife. The couple tied the knot in 2016. He noted that Henderson "blessed" their wedding before her death.
"That was very special," said the former child star. "I had to hear the punches and I definitely took joking, ribbing them of the attempts I've made in the past that didn't work. It didn't work. But it did." [Florence] I met Kara. It was not asked. I volunteered. But this is the position I have taken in my life. My mom passed away, but even before my mom did, I had two moms. At that point, I had one. It was just a great feeling."
Jane Seymour unites with her d. Quinn, Medicine, Associates in Medicine: 'They Still Carry Me'
"Unfortunately, we were unable to follow through on the plans we made after our wedding to come back and visit because she passed away," Knight said. "But we had a great, great dinner and her support before that happened. She's just such a huge person in all of our lives. And I think part of the reason we adapt so well or we still connect with her is because we had her. I don't know if you call her old school or just classy or Interested. But she was just a wonderful person to have as someone you could look up to. And for example, try to become."
The remaining colleagues have maintained a strong bond over the years. Show lovers are treated to a special treat this festive season. On Sunday, Lifetime premieres its new Christmas movie "People Presents: Blending Christmas," which explores how a beautiful lady named Emma (Hayley Duff) and her lover Liam (Aaron O'Connell) try to bring their families together…unexpected guests."
The family members play the original stars of "The Brady Bunch", Barry Williams (Greg Brady), Nate (Peter Brady), Mike Lukenland (Bobby Brady), Susan Olsen (Cindy Brady) and Robbie Rist (Cousin Oliver), as well as "Brady" starring Punch" Jennifer Elise Cox, Beth Broderick, Thelma Hopkins, and Greg Evigan.
"These relationships are now 53 years in the making," the actor explained. "That was one of the raffles. It means I can catch up with Greg and Mike. It's a shout-out. It's a gift. My wife and her mom are also huge Christmas movie fans. There is no football match when I come back and visit my family. So I had to say yes."
Click here to subscribe to our entertainment newsletter
Looking back, Knight said one of his favorite memories of spending time with his "Brady" family was when they recreated Christmas for the series.
"It wasn't the holiday season, but the holiday season got into shape," he recalls. "I think I was 11 or 12 at the time. And it was just a nice experience. Even though it wasn't Christmas, it was the best Christmas. We tried it together. We had two families. I'm an experienced Barry. [Williams] as a brother. He's definitely a friend, but he was also a brother. That warmth and that feeling you get when you watch the show was there… and somewhat missing from my family. I remember it every birthday."
Today, Knight said he would be open to having another televised interview with the rest of Brady's cast.
"We've done a lot," he noted. "You might think the answer out of my mouth is we can't do anything else. But the truth is, there's always talk of getting back together. Part of the attraction in any production that might get us together is that we work together again. It's like working with family. But Even better because you are close by, but not completely living under one roof. It is a wonderful warm experience."
'LITTLE HOUSE ON THE PRAIRIE' star Karen Grassell shines with sobriety, makes peace with Michael Landon
"There is always talk of something," he said. "Most of the time, these things don't show up. And then sometimes, something miraculous happens, like two years ago when HGTV sat down and told us they bought ['Brady'] House. And that they had this plan that came out of nowhere. Sure, the "Christmas blend" came out of the blue, too. There is always something on the horizon. We can only hope that something is worthy of us getting back together. And of course, if that were the case, I'd be there."
Knight said he hopes "Blending Christmas" brings families together over the holidays, just as The Brady Bunch continues to do so."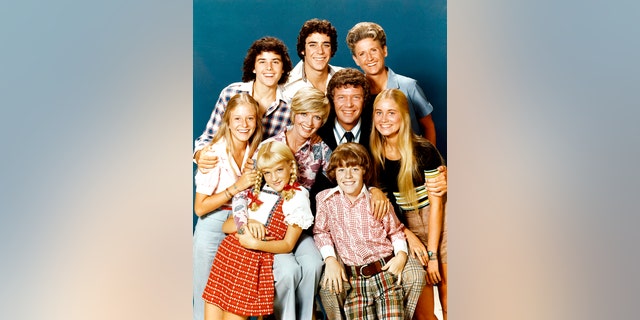 "It has that warm and cozy feeling you get from a Christmas movie," he said. "There's something about Christmas that brings out the philanthropy in all of us, that desire to take that extra step, as the Bradys have always done in every episode…and it doesn't have to be near Christmas. We can always take that extra step a step at any time. of the year."
"People Presents: Blending Christmas" airs Sunday, December 12th at 8 PM on Lifetime.